Women in Sustainability Edinburgh Launch event
5:30 PM - 8:00 PM, 18 September 2019
Women In Sustainability (WINS) , ECCI (Edinburgh Centre for Carbon Innovation), High School Yards, Infirmary Street, Edinburgh, United Kingdom
How can the Global Goals help us be sustainable with real impact and make a difference? Join in the discussion and get inspired.
Women in Sustainability (WINS) are excited to launch the Edinburgh Hub with a conversation to explore how we can have real impact for sustainability. Expect a similar approach to other Women in Sustainability Network events where we dig deep into ideas and topics that matter to us and get you connecting and working together. This will be a highly engaging session that you simply can't afford to miss!
The UN's 17 Sustainable Development Goals give us a framework and 'to do' list for a more sustainable world in 2030. With the aims to end poverty, protect the planet and reduce inequality, these Global Goals highlight key areas where all organisations can make a difference and be a force for good. We're privileged to tap into the expertise of Fran van Dijk who is a pioneer in low carbon and sustainable business, with 25 years experience in the field.
In this session you'll have the opportunity to work in groups to explore and select the SDGs and targets most important to you and your organisations. What role can you play in helping to deliver the SDGs?
Confirmed speaker - Fran Van Dijk
Fran is an experienced sustainability strategy and communications expert adept at supporting companies to become more effective sustainability leaders and to manage risk and opportunity to build lasting value. With a deep knowledge of the UN Sustainable Development Goals Fran operates at C-suite and senior level, asking the right questions, guiding priority-setting and helping to turn ambition into reality.
Fran is a founding partner of One Stone Advisors Ltd, a global strategy and communications team which helps companies become more effective sustainability leaders. Fran is a Board Member of the Scottish Environment Protection Agency and is as an advisor to a new SDG-based fund run by Montanaro Asset Management. Fran holds an MA in Archaeology and Anthropology from the University of Cambridge and an MA in Environmental Management from the European Association for Environmental Management Education.
Who's it for?
Women working in sustainability at all levels and sectors.
You've been working in sustainability for a while but are looking for a change
You're new to sustainability and want to get prepared for the road ahead.
You're established in your career and wondering how you can progress or change what you do.
You've had a varied career and have wisdom to share.
What will you get from attending?
You'll come away with inspiration, energy, new insights about your own situation as well as strategies and tactics for designing your own change.
You will have the opportunity to meet and network with other like-minded women working in sustainability.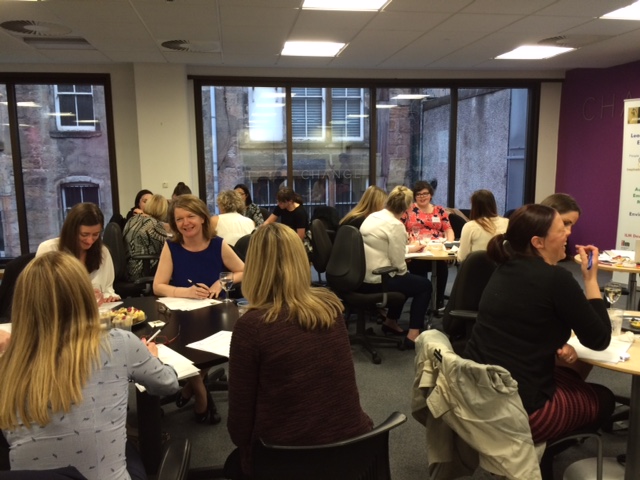 What our 'Women in Sustainability' say about our Network Hub Events:
"The WINS Network gives me a feeling of empowerment and support. How fantastic to be surrounded by so many powerful, sustainable women" Rosie Williams
"The WINS Network gives me a great opportunity to connect with like-minded women and learn great stuff!" Nicola Ainger
"The WINS Network Hub events gives me such insightful and useful tips from other professionals. Also its great to hear and share experiences and be reminded that we are all facing the same challenges!" Julie
"There is a really positive feeling - the atmosphere is so energising" Karen Press
"It was great to have a space to listen to women talk about being passionate and driven. It has inspired me to tap into those passions" Mathilde Braddock
All queries contact the Edinburgh WINS Hub organiser
Dr Sue Mitchell email: wins@aeona.co.uk
Registration at this link.